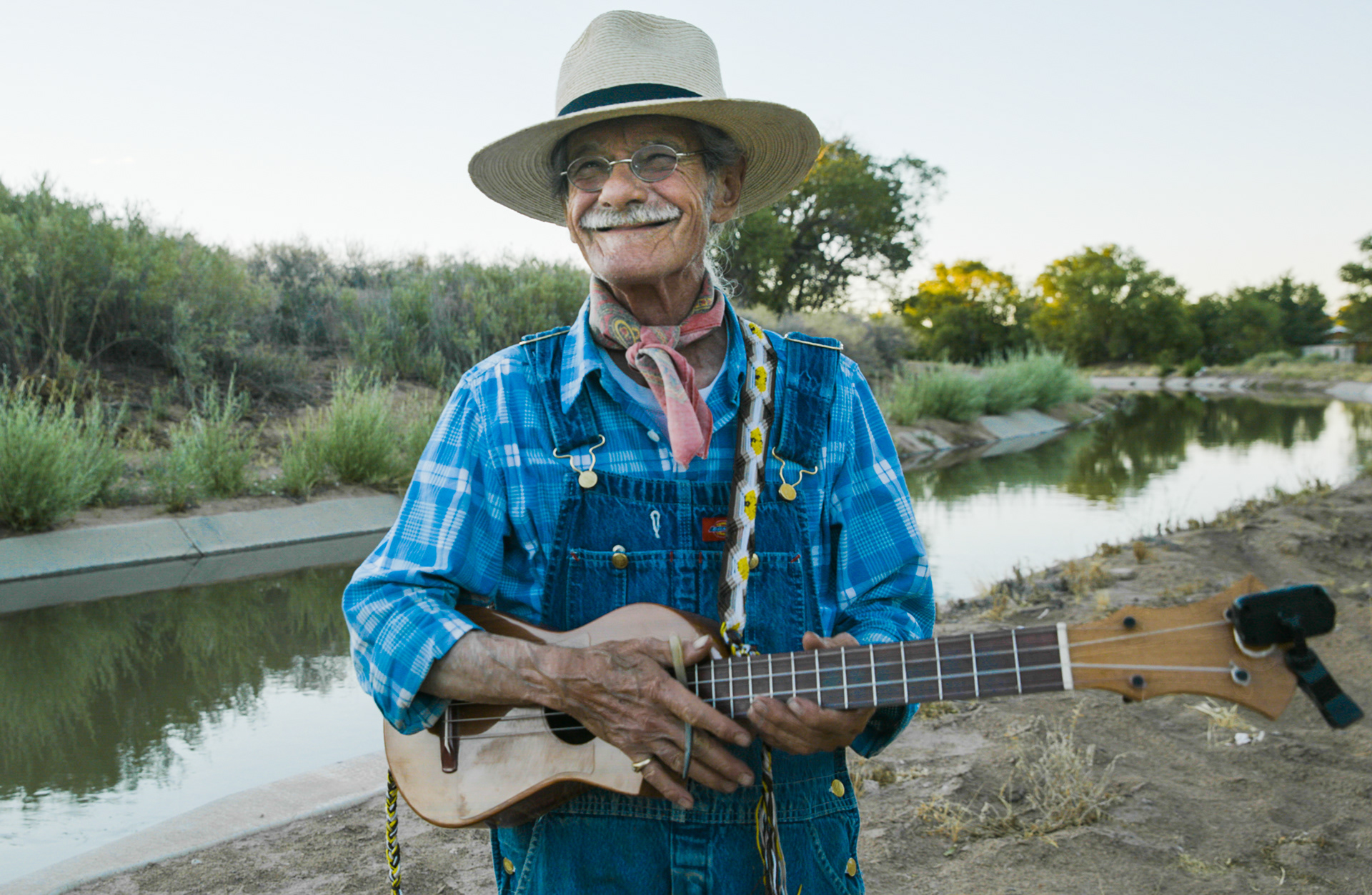 "The Rio Grande as the sidewinding serpent, the shape-shifter and giver of blessings, and within the locomotive heart of this fabled river, there exists many roles and functions. The river as teacher and healer, a liquid church flowing democratic gospel where everyone is welcome to worship and revel. The river as storyteller and beat-keeper, a freestyle genius. The river as an old man dreaming of his return to the sea, or a silver-voiced woman singing full-throated to earth and sky. The river, as us, because everything echoes and rhymes within nature's divine scheme. A journey with many voices, a love song, forever remixed, river deep and mountain high."
as written by John Biscello and narrated by Robert Mirabal in Rio Grande Serenade.
In the Bosque of Albuquerque, the Rio Grande has been the lifeline for thousands of years to the people who farmed this fertile land with Corn, Squash, Beans and Tobacco. In Episode two of the Rio Grande Serenade, we meet Lorenzo Candelaria, a seventh generation Atrisco farmer whose work and livelihood depends on the Arenal Acequia which transports precious water to his crops. 
We also meet Anita Amistutz, a Bee Keeper and founder of a watershed advocacy group called Think Like a Bee. After seeing the resilient rebound of a broken-down hive, Anita teamed up with Lorenzo to advocate for healthy wetlands management and to educate the public about the dangers of mono-cropping, pesticides, and chemical fertilizers which contribute to bee colony collapse. The ongoing impacts of climate change and habitat loss are major threats to the essential pollinators of the Middle Rio Grande. 
Together, these two charismatic characters reveal a beautiful sliver of hope in a dry desert where a community can come together to learn about the ancient methods of watershed stewardship which provides food, honey and a sense of belonging in a rapidly changing world. 
Our small crew from the UNM-Taos Digital Media Arts program travelled to Lorenzo's farm, Cornelio Candelaria Organics, on four separate filming trips to capture their story of resilience and querencia (love of place). 
Lorenzo was eager to share his hopes, dreams, and fears with a wider audience, "In the near future, I see problems in the fact that there are developments going up in the desert where they want to pump water for 38,000 habitations. Where are they going to get the water?  After farming with this ditch for 300 years, we'll end up with no food, loss of our culture, language and tradition which are established around this system of water. Our water is very sacred to us. It's frightening to think what could happen if that whole development takes effect. This is water we eat and drink from. What the population at large can contribute is awareness. Water is not something we just quench our thirst with. It is alive. La Vida es Aqua y la Vida es Aqua."
Additional Camera and Production Assistance by UNM-Taos DMA Students
Full Credits at end of EACH EPISODE